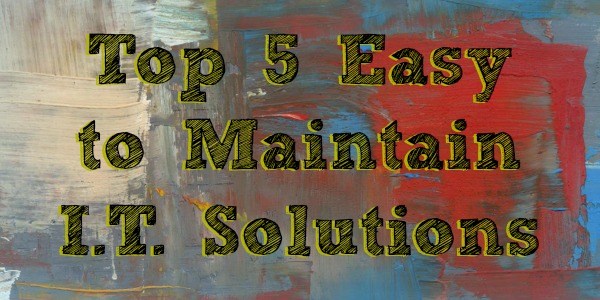 Who doesn't like something that is easy to maintain? They say a cactus is easy to maintain, but I have somehow managed kill one of those in my lifetime. As an IT professional, an easy to maintain solution can be a welcome change from the crazy pace of your daily grind. Heck, some days grabbing a cup of coffee can be a challenge. There never seems to be enough time or people to go around, but today I will reveal the top 5 easy to maintain I.T. solutions that require little maintenance and time.
5. Password Manager with Automatic Password Expiration Notification
Do you have a password policy in place at your office? If you don't, you should, and if you do, good for you! Managing that password policy can be a real challenge if you do not have a password management solution in place that sends expiration notifications. Providing your end-users with a password expiration notification prior to the password expiring is not only courteous, it is a great way to curb account lock out problems.
Password expiration notifications can be provided via a series of email notifications or right at the login screen notifying the number of days prior to their password expiring. Of course to be fully effective, you would need to have a self-service user unlock solution in place.
4. Self-Service Password Reset Mobile Application
As technology advances, the functionality and utility of our Smartphones grant us the ability to use these devices for much more than placing a phone call. This includes easy ways to reset and maintain passwords. Incorporating a self-service password reset (SSPR) mobile app into your environment is a great way to enable your end-users to manage their own passwords easily.
Beyond the pure convenience of having a mobile application, there are mobile applications available that go beyond the basics of changing the password. I heard that one application will actually create familiar looking passwords that are generated based on a series of questions that are answered during the enrollment process. This is in an effort to help you remember the new password and give you the option to change your password frequently too.
The incorporation of the mobile application will free up both time and money. This is due to the reduction that will be seen in the number of password related help desk calls. This reduction in calls will allow your team to work on other projects and free up money that can be spent on other projects.
3. Password Synchronization
Maintaining one password across multiple IT systems is a great way to not only simplify the login process for your end users but also allows you to easily maintain their passwords. Keep in mind that all of the programs need to have the same password policy standards for this type of system to work for you. Once a password synch is put in place, managing the end users' passwords gets a lot easier. Tying this solution in with your password policy means that the users will only need to change one password at the required increments to access all of the software they need access to.
Password synch is also a very useful solution in situations where your user directories are not the same. Much like the previously mentioned solutions once this solution is in place, there is very little maintenance that needs to be performed to maintain this system.
2. Single Sign-on
Do your end-user utilize multiple applications to do get their job done? Chances are the answer is yes; your sales department uses Salesforce, multiple departments require access to your SharePoint site, and everybody needs access to Office365 to access their email. This is a very common scenario at companies worldwide, and many of these companies have recognized that there is an emanate need to reduce the number of login prompts. This simplifies many processes for your environment including the number of user names and passwords that you need to maintain. Furthermore, once the system is in place, there is little maintenance that needs to be performed outside of adding either new users or new applications.
As applications become more popular and easy to use, your company is sure to integrate additional applications. As the number of applications grows in the marketplace, application vendors are providing support that includes SAML and CAS protocols.
1. Self-service Password Reset (SSPR)
Talk about low maintenance compared to the alternative of your end-users calling the help desk to reset their password if a lockout occurs. The functionality of a SSPR solution is quite flawless once installed and user registration completed. When the user has either locked themselves out, is required to change their password, or requests to reset their password, there are a few different ways that they can regain access to their account. As mention before, this can be achieved by using a mobile application, being sent a one-time passcode (VIA SMS, phone message, or email), or being prompted to answer the questions that we answered during enrollment. Once they have successfully completed the selected action, they will regain access to their account.
This easy to maintain solution can provide relief to your stretched thin IT support staff, provide some real ROI, and free up funds that can be used on other pressing projects.
Beyond the sheer convenience for the end users and your IT staff, typically this solution is paired with password management functionality; this one-two punch can kill two birds with one stone.
Providing you with an easy way to reduce help desk calls enables your end-users and also allows you to enforce your password policy . . . all while saving money too!
Now that you have been educated on the top five easy to maintain I.T. solutions, where do you stand? If you find that you have no time to perform your daily tasks because you constantly have to tend to user login issues, one or more of these solutions may be needed.
By the way, here is your cup of coffee.