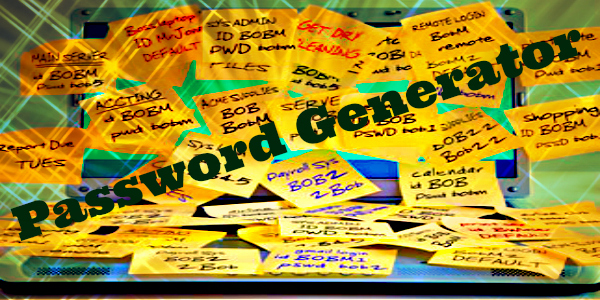 Did you know the average help desk call costs around 25-30 bucks per call? The number one problem that any IT department encounters is something we are all guilty of: You forgot your password. This may seem like a common mistake which you have grown accustomed to: fixing ticket after ticket after ticket. What you may not have paid enough attention to is the problems that passwords face in a technologically savvy world. It's now filled with hackers; people who want to steal your information, your privacy, your money, and your life. It sounds dramatic but it's true. That's why authentication security should be addressed now more than ever! Luckily, there is a simple solution, one that saves both your sanity as well as your company's bank account: a familiar mobile password generator. Do you like saving money while becoming a hero at your job? Read on!
When searching for some kind of authentication security, the sky's the limit! There's single sign-on, two factor authentication, self-service password reset, password generator, and many other solutions. My favorite is a self-service portal for passwords. Here are the top five things to consider when searching for a password generator solution for your environment:
Familiar Mobile Password Generator - Considerations
Easy Integration

One of the main reasons that you are looking to deploy a familiar mobile password generator solution is to streamline access. This should start from the beginning by installing the solution in your environment. Your ideal Self Service Password generator solution should be a plug and play set up, integrating seamlessly with whatever your repository may be: Active Directory, general LDAP, or even custom SQL tables.

Consistent User Interface

Keeping a consistent UI is important in order to reduce user training and increase adoption of the self-service password solution. Furthermore, it is important that the UI is cross functional and will appear the same no matter if the user is operating on a Mac, PC, tablet, or mobile phone. Why should your solution be limited when your users are not?

Great Technical Support

Choosing a company that backs their product with excellent technical support is a must. This means finding a vendor that does not farm out their solution to a third party service; especially one that has no real experience with the product, or is only reading from scripts. When the technical support is provided by someone within the company who has worked directly with the product, you are much more likely to have an exceptional experience and get the timely support you deserve.

Configurable

Being able to enforce your own password policies while using the familiar mobile password generator is a crucial part of the self-service password reset experience. Making the self service password reset solution your own includes: establishing your own challenge questions, the number that needs to be answered, controlling password complexity criteria, and choosing any OTP delivery methods. A self service password reset solution will allow you to match your security policies and risk tolerances, whatever they may be.

Easy Reporting/ROI

The number one thing to look for is whether or not the solution offers a good way to compile reporting for both projected and historical savings. The best way to prove that these solutions function effectively within your environment is to look at the numbers and see how much money you are saving each month, alongside the amount of users who utilize the solutions.
All in all, effective authentication security helps you secure your information, while giving you peace of mind. A bonus would be the low cost of an appropriate familiar mobile password generator that will still provide a large, positive impact on your existing environment. Now is the time to identify and resolve minor, frequent authentication issues, to prevent them from growing into larger security risks in the future.
Have questions about our familiar password generator? Click below to chat with an expert today!