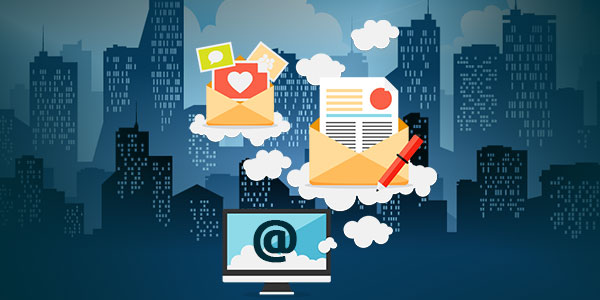 Do you see IT infrastructure as a necessary evil? What about IT infrastructure when it comes to e-mail hosting? Did your answer between those two questions waver or change at all? As a service, email has been "business critical" for years now, making it a necessary staple to any environment. In many cases, this may lead to oversight when understanding the Total Cost of Ownership represented by email in the IT budget. The servers must be patched, monitored and maintained, and any downtime can result in major holdups for end user productivity and business progression. But where is it decreed that each organization must host and maintain email on their own? A better understanding of the total cost of ownership for email solutions will find more areas where you can save on your email solutions.
Cloud-based Email and Total Cost of Ownership
With special thanks to the slow start of commercial Internet, there is generally more widespread acceptance of using email in the cloud. After all, most users are familiar with Yahoo and Hotmail email addresses before corporate email was ever a necessary component to be considered.
Now, smaller organizations may be comfortable utilizing email that's a "throw-in" with a web hosting package, but larger organizations don't have this luxury. It is easy to trip up when justifying the direct, published cloud costs because all the hidden costs of hosting email on premises are exactly that - hidden. Unlike cloud hosting's convenient "price per user per month" structure for something like email, on premises costs can hit you where you least expect it.
Some considerations when determining the total cost of ownership for email hosting include:
Software licensing - This includes the cost of server licenses for both email and anti-spam & client software (such as anti-virus programs). If the email product doesn't support search & discovery and this is something that your organization requires, then this is an additional component of the total cost of ownership that you must adopt.
Hardware - Multiple servers are needed for larger or distributed organizations. CPU and memory failures do occur and must be repaired.
Backup & storage - Storage is relatively cheap now, but it's amazing how people become pack rats when it comes to never cleaning out their email. You'll need multiple backups including off-site. In combination with the above noted hardware considerations, this can become a major player in the amount that your total cost of ownership must absorb.
Administrators/Head count - This is for both maintenance and ongoing support
Training & potential certification
Network - An additional cost consideration relating to hardware and maintenance, as well as the general setup and organization of the network infrastructure itself
Downtime - This has its own costs related to user productivity and business management/progression
Over-compensation - Building out your environment in advance allows for future growth but results in increased up-front costs and underutilization
Cooling
Electricity
Alternative Sources for Appropriate Email Hosting
Possibly the most obvious choice for an email alternative would be to go with one of the bigwigs: Microsoft Office 365 or Google. More specifically, a viable alternative to hosting your own email would be to patch it through Google Apps for Work or Google Apps for Education.
When considering the total cost of ownership for email hosting, Google Apps for Work/education is a prime candidate because of its familiarity. According to Digital Marketing Statistics, approximately 900 Million users are actively using Gmail for their personal or corporate email. What this tells us is that switching to Google for your email host will most likely be a simple, easy to manage switch for your end users because they have undoubtedly used the service before. Not to mention you have the freedom to choose your own domain name as well!
In terms of total cost of ownership, the name Google carries a significant amount of pull in that regard. Simply take a look at their offering page and you will see precisely what the benefits of a hosted cloud solution may be:
Uptime – Guranteed at 99.9% uptime, taking the worries off of your back
Maintenance – No need to update, patch or otherwise maintain local email servers or infrastructure
Hardware – Google handles the hardware so you don't have to
Backup/Storage – High volumes of email storage, even in the lower price tiers, as well as access to Google Drive and the rest of the Google Apps Suite
Local Environmental Costs – Reduces total cost of ownership fees that you rarely consider for locally hosted solutions such as electricity, temperature control, etc.
Next time I'll take a deeper dive into the benefits of Choosing Google Apps for your email hosting solution, and the true benefits to your total cost of ownership analysis.
In the meantime, leave a comment below with your thoughts on hosted email, Google Apps, or even cloud solutions in general!