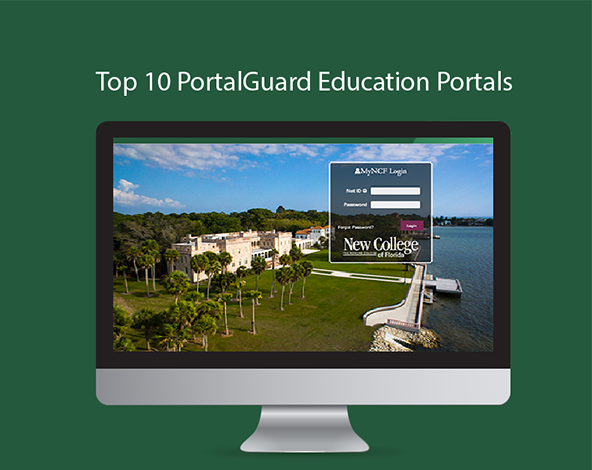 As a former student, PortalGuard is an intriguing product. During my stay at Rensselaer Polytechnic Institute (RPI), there were a few different logins I needed to know for day to day life as a student. One would be for accessing my student account, where class schedules, grades, financial aid, and other necessary information is kept. Another account was needed to access blackboard which held all of the information needed for classes. Students who used Rensselaer's RoundCube based email system needed that account as well. Personally, I forwarded my emails to my Gmail account. Oh, and by the way, our student account page wouldn't even work on Google Chrome! At a world leading engineering school!
Yet I digress, a single sign-on page would make this process much easier. PortalGuard is the answer. Over 50 percent of PistolStar's customers are in the education industry and I went through all of them to find the top 10 single sign-on portals in my humble opinion.
PortalGuard is a customizable product so I was looking for creative pages that would provide the users a pleasant experience. Harping back onto my days as a student, the RPI login pages were not visually pleasing and that starts the whole journey off on a negative foot. For example, here is the aforementioned student account login page.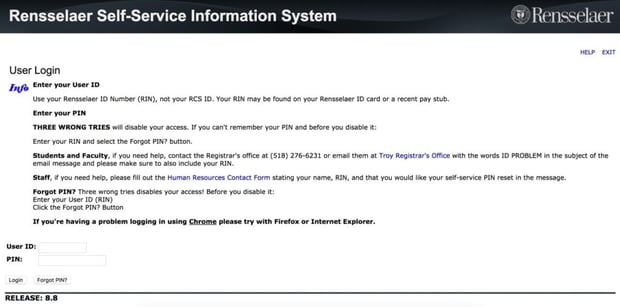 Yes, this is not a screenshot from 2005, but indeed this is a student login page of a top engineering school in the year 2017. It always put me in a dreary mood before even logging in. PortalGuard, offering beautiful customizable pages, would've been amazing to see and use as a student. Along with the Portal itself, I checked out every school's main page to see how well they kept the site's overall aesthetic going. So, with that in mind let's check out the top 10!
Mt. San Jacinto College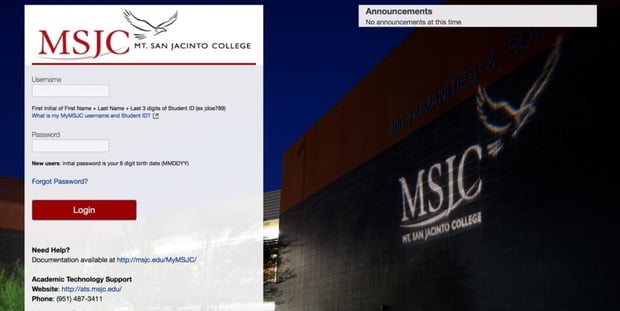 This school located in California has a unique portal that displays announcements, gives links for support, and has a nice background image of the school itself. This is a very useful portal! Aesthetically it could use a little bit of work, rounding off the sharp corners, and maybe choosing a different color text box background, as white and a nighttime scene creates some heavy contrast.
Xavier University of Louisiana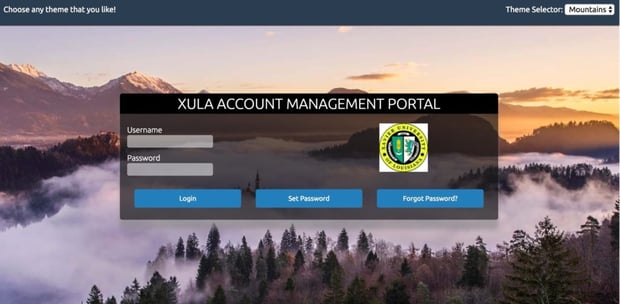 XULA comes in at #9 with a feature I love, user theme choice! This unique option allows the student to choose a theme the is pleasing to them. The site currently allows choices of Default, Stripes, Mountains, and Road. It would be nice to see more options and some that relate to the school, but overall having a choice is amazing. The only other thing I would change is getting rid of the white square surrounding the university crest to create a more fluid page.
Shasta College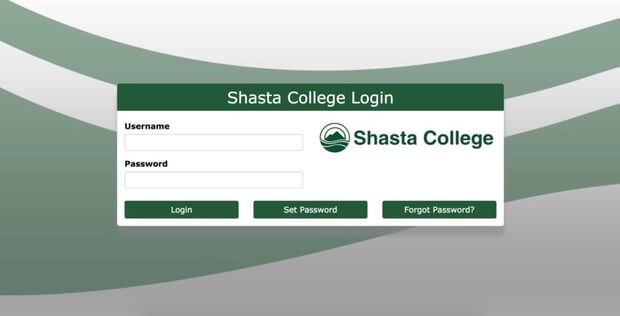 Mt. Shasta, otherwise known as the root chakra of Earth, has an awesome school nearby with a very beautiful portal. The simplicity of this page along with how excellent it blends the school's website theme together with PortalGuard earns Shasta College the #8 spot. The flowing lines through the logo and the background give very pleasing results.
Northeast Mississippi Community College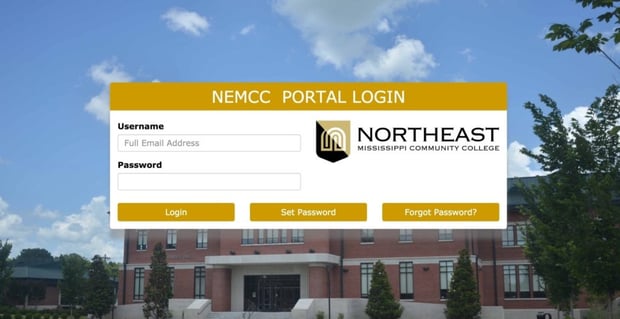 NEMCC delivers an excellent portal that ties into the theme of the college very well. Using a crisp image of a building on campus along with using clean design earns this school #7.
Central Penn College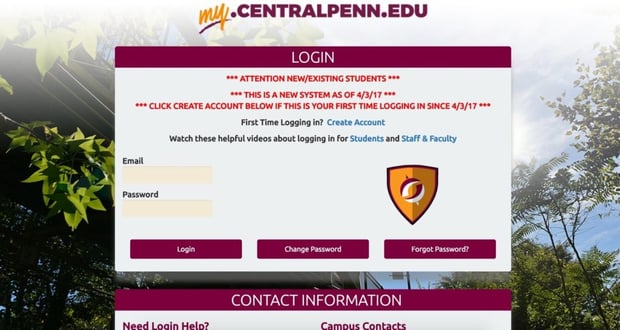 Central Penn College alerts students about the new PortalGuard system as soon as they get to the portal. This is very useful information for a student unsure of what's going on with their login pages. Along with that message, there are plenty of contacts listed below to help any student in need. Finally, and in my opinion, the best part, is the wonderful background image of a peaceful sunny day which just puts me in a great mood!
Southwestern Community College
Southwestern Community College creatively adding a clean and translucent Jaguar to the background of the login box earns them the #5 spot. Along with blossoming trees lining the street, this certainly made for a pleasant login experience.
North Carolina Central University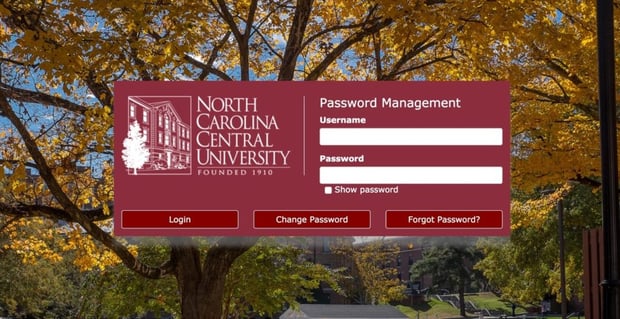 Incorporating the bountiful trees and part of campus, just like the school's logo, is a great touch. As a student, I would not mind seeing this page every day whatsoever. The color scheme is also directly on point with the homepage and invokes an overall fantastic portal.
Tarrant County College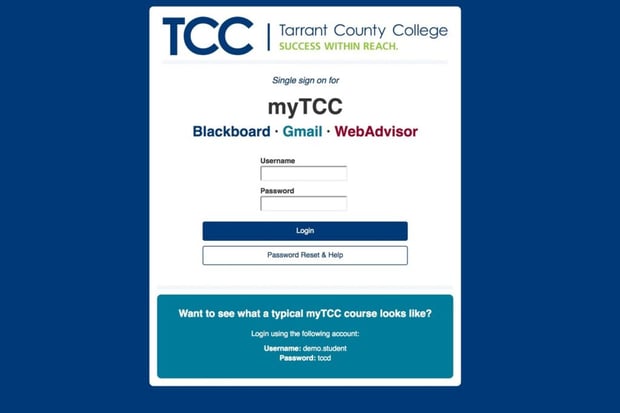 TCC really lets the student see how beneficial PortalGuard can be by explaining this portal is a single sign-on for myTCC, Blackboard, Gmail, and WebAdvisor! On top of this, they actually provided a demo account for prospective students to test drive the portal which I suggest you try! Amazing features and on top on that the aesthetic blends perfectly with the school's main page. All of this gives Tarrant County College a well-deserved ranking of #3.
Indiana Tech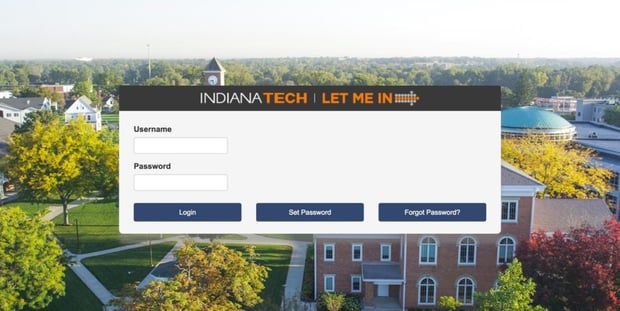 Indiana Tech comes in at #2 on my list of the top 10 portals used by PortalGuard education customers. The stunning aerial photo of the school as a backdrop immediately caught my eye. This would make me happy to attend this school if I had to see this page every day. The real kicker comes on top of the login box though, the custom LET ME IN with the on-theme arrow is an amazing touch. With a portal, this good the #1 portal must be sensational. Well, let's check it out!
New College of Florida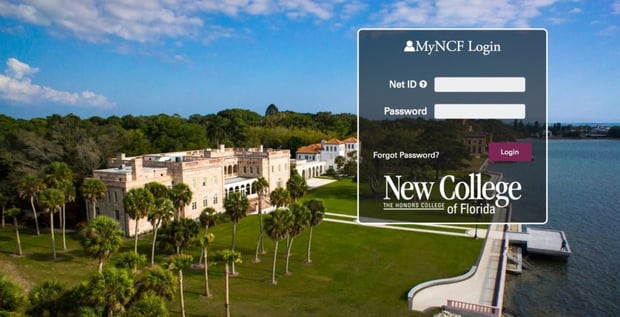 Wow! Instantly the first word that came to mind as I saw this was "breathtaking". This image of the jaw-dropping campus and land New College of Florida sits on makes me consider visiting on "IT work" just to take in the surrounding beauty. I guess that's what we should expect from the self-proclaimed Honors College! Along with this image we see a login box placed in a unique location, perfectly sized. The aesthetic of this portal is flawless and ties directly into the theme of the school's homepage. I love everything about the New College of Florida's approach to their online presence. It's aesthetically pleasing and gives you everything you need, and this is why it earned the #1 spot on my list of portals!