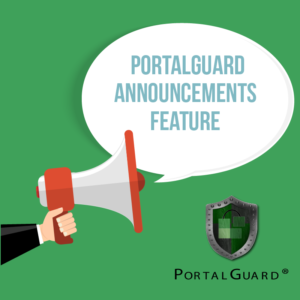 Let's be honest: the benefits of announcements are nothing new in the world of education. Many applications and service providers have the option to implement announcements. However, these features often do not integrate well with the login process. On top of that, announcements are often lost among everything else that end-users are presented with. This leaves organizations with an interesting problem: communicating information to end-users without overwhelming them to the point of informational exhaustion.
So here we are: the end of the school year has come and gone. It is now time to begin looking at innovative solutions for the fast-approaching future. A high priority for many educational institutions is finding and implementing a secure web portal with a full feature set. With any luck, this portal will benefit both end-users and administrators alike. Best of all: the summer session provides ample opportunity for verbose testing without much interruption of daily services. What many institutions may not know, however, is how a fully-featured web portal solution can also address the problem of communication. How? Through a more streamlined implementation of announcements. Continue reading to discover 2 reasons why portal login announcements are beneficial to users.
Realizing the Benefits of Announcements - A Logical Step in the Right Direction
PortalGuard has time and again displayed the various benefits of features such as Single Sign-On, Self-Service Password Reset, and Two Factor Authentication. More and more campuses and institutions are moving toward digital solutions, and require both ease and security. Bearing that in mind, PortalGuard's features are a must in Education. With ease of use and security as a priority, why should communication be any different? With the latest version of PortalGuard, we have expanded upon the benefits of Announcements to provide you with an even stronger login portal.
This article focuses on the culmination of two primary benefits of Announcements as an important feature in the login portal for your Educational Institution: establishing a clear and simplified communication channel that is complete with thorough customization options.
A Clear and Simplified Communication Channel
When working with end-users within an education institution, it is important to have a solid and reliable communication channel. Relying on standard services such as e-mail, text-messages or simple word of mouth is not always effective. Mass e-mail messages run the risk of being flagged as spam. Failing that, emails are often ignored or even missed by the target audience. While these channels are, in fact, strong, they are not the most reliable option.
Announcements from a centralized Identity Provider (IdP) stand above your standard communication channel by virtue of both accessibility and visibility.
Providing Announcements Where Your Users Will See Them
The benefits of announcements are useless if the messages and notifications are not actually seen by your end users. A key component in establishing a strong communication channel is to ensure that users do not have to go out of their way to view important information. PortalGuard approaches announcements in one of two simple ways - both of which are fully customizable.
Important Announcements on the Login Page
Utilizing an education web portal guarantees that users will login at least once a day. This provides a simple, existing window of opportunity to deliver important notifications that apply to all users. These announcements typically consist of campus-wide alerts, or standard information that may benefit end-users - even if they are logging in for the very first time.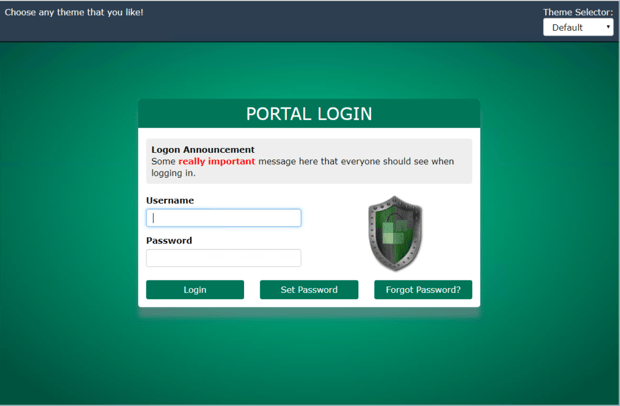 Utilizing announcements in this fashion ensures that end-users do not have to alter their daily routine to obtain important and relevant information. Login announcements provide a streamlined communication channel that requires little to no extra effort on behalf of end-users, while providing them with the tools they need to succeed.
Targeted Announcements When Accessing Additional Applications
Gneric login announcements are enough for many institutions. However, there are other institutions that prefer a more targeted approach. Communicating to specific end users and providing information related to a specific application that is being accessed provides a more relevant information stream and is not always present in most 3rd party announcements applications. This use-case is where a fully-functional IdP truly shines.
Acting as both IdP and Authentication Provider, PortalGuard provides targeted announcements that are fully configurable from a simple management page.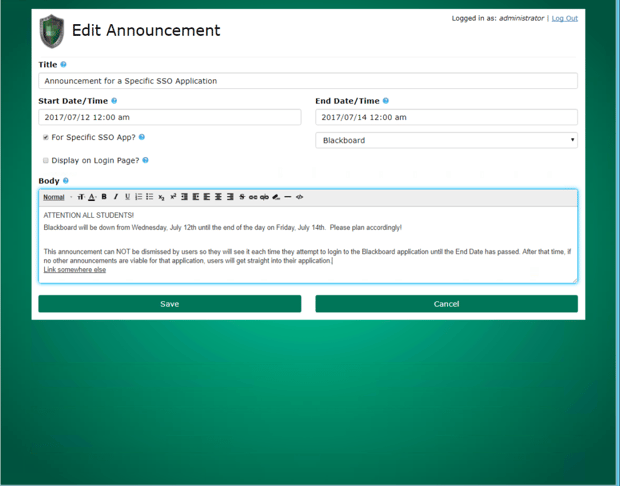 One of the most useful benefits of Announcements as a feature is the ability to provide information to relevant end users. Specifically, targeting information to groups of end users or even end users that are accessing a specific application. Targeted announcements present users with information that matters. Additionally, targeted announcements reduce white-noise and improve the likelihood of information being properly digested and heeded.
Unique Customization with Depth and Simplicity
PortalGuard provides many of the benefits of Announcements through its management page. This simple to use tool allows administrators to manage and target announcements from the web at any time. Some of the benefits of Announcements and customization option that PortalGuard offers through the management console are as follows:
Specific Start and End dates for improved automation for Announcements
Deciding on specific locations to show Announcements:

On the Login Page
In between login and accessing any website application
When accessing a specific website/application

Ability to allow users to permanently dismiss announcements that are not pertinent
Targeting announcements for specific users by either group or OU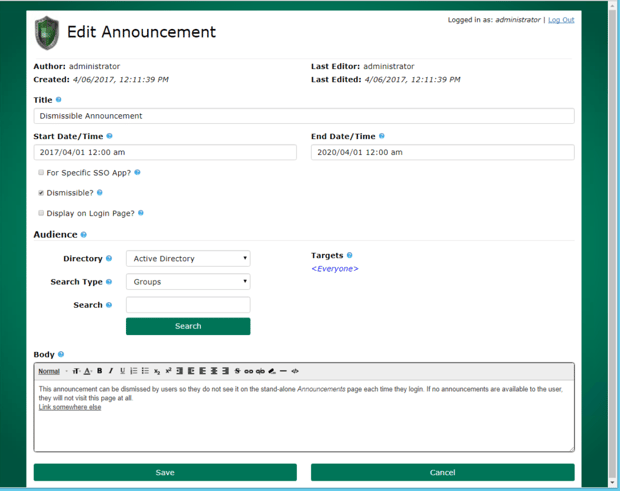 With so many options available in a straight forward interface, there is no reason to delay on realizing the benefits of Announcements through PortalGuard. If you are still fuzzy on the details, just give us a call and we will be happy to provide a demonstration.
Let us help you move well on your way to providing your school with useful, targeted announcements!