Striking the right balance between convenience and security proves to be a benchmark of success for today's banking organizations that are heavily weighted towards customers. However, a majority of the organizations still follow traditional ways of securing the assets, including PINs and passwords.

From 2019, new technologies in the financial sector are set to transform the traditional banking landscape. As cybercriminals have become more sophisticated and insidious, it is evident that setting passwords is no longer a solid, viable option. With cyberattacks being more common in the financial industry, banks need to implement stronger forms of authentication like biometrics and cryptography.

CIOReview has compiled a list of 20 Banking Technology Solution Providers to guide the financial sector in harnessing the power of technology to tackle today's challenges, reduce workload, and increase efficiencies. The organizations featured in this issue through their business knowledge and industry prowess have established their eminence in the banking solutions sector.

BIO-key International is pleased to be recognized in CIOReview's September Banking Edition as one of the "20 Most Promising Banking Technology Solution Providers" in 2019. With BIO-key's biometric solutions for multi-factor authentication, banks can be more at ease as securing confidential data and information has never been so simple yet effective.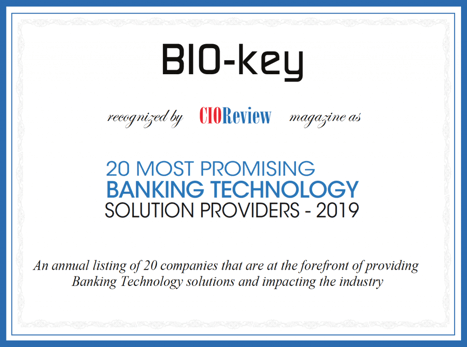 To view the award and BIO-key article as a pdf, click here.
Read more about BIO-key in CIOReview.