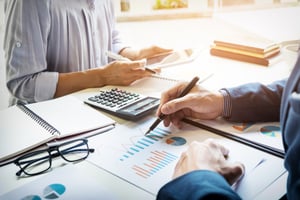 College's and University's IT departments are always battling and scraping for the appropriate funds for projects that shape their digital environment. Below is a high-level overview about being better prepared for upcoming projects.
Budgets are Tight for Colleges and Universities
Colleges and Universities are constantly struggling with the growing costs of educating the future workforce. No matter how precise the budget plans become, there's always going to be budget cuts. During a recent education conference, a guest speaker mentioned an important lesson in budget planning – know your costs and provide a detailed breakdown of how the funding received yearly is being spent. This makes it harder to take away from than say another department that receives the funding every year but doesn't have a plan on how to spend it. Budgets will decrease regardless, make the case to keep the majority received every year.
Make your case for the IT budget, back it up with facts, ROI and take a proactive approach. Providing case studies, tech briefs and white papers helps get the point across and makes the case. Show Results! Another approach is to act like a new IT Manager and start from scratch.
For more tips check out our blog article: Budget Fundamentals for the First Time IT Manager
What can be done to tackle the cost of having cutting edge technology on campus without breaking the bank?
Grants
Grants are a great avenue to pursue to obtain the necessary funding to have cutting edge technology on campus and not become complacent with solutions that are currently in place. The Campus Consortium is a great starting point. With multiple options to choose from and tailored specific grants to apply to, it makes your job of finding the right solution easy. The best part is that you can go with any vendor of your choosing. The downside of these grants is that they are subsidized by different vendors, so they are allowed first crack at obtaining your business. Free isn't always free, as there are many hoops to jump through and specific deadlines, qualifications to meet while attempting to receive the necessary funding. Knowing the process of each grant will streamline the process for your institution.
Building Relationships
By necessity and timing, one community college district sparked a contract deal that benefited the entire system for years to come. A few years back, a community college in California was interested in PortalGuard for SSO, SSPR, and MFA. It was on that demo call that a relationship was built with lasting effects. The relationship with the Foundations of California Community Colleges through the College Buys program was formed and a contract was made. This contract between the FCCC and PortalGuard opened the door to the budget pinching community colleges and allowed them to obtain cutting edge technology at an affordable price. PortalGuard is open to joining any community college or university system. It is our goal to provide institutions with the best IAM solution and be an extension for your IT Team!
Read more about that partnership here: How One Foundation for Community Colleges Found a Password Management Solution to Fit Their Budget
Overall, the path to obtaining the necessary funding through any efforts will always vary year to year due to factors that are out of someone's control. These suggestions, such as asking a vendor if there is a program that can reduce the cost or if the vendor can amortize the cost, can help you budget unexpected expenses better. Additionally, when budgeting for a software solution that is not in immediate need, always obtain a quote and lock in the price. This can be used as a bargaining chip when it comes time to purchase. Good luck to those prepping for the next fiscal year!
PortalGuard is here to help! Learn more today!