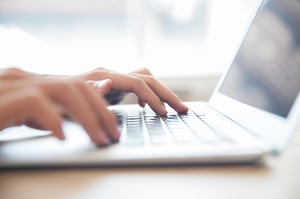 What is SSO authentication? SSO stands for "Single Sign-on" and is an extremely beneficial tool for businesses and individual users. In this day and age, users are being required to remember more and more passwords with the current average asking us to remember 12 in any given day. Password security is becoming tighter and alongside this, not only are passwords more complex but the majority of users are required to change those complex passwords on a regular basis. As you can imagine, this can be incredibly frustrating and time-consuming. Now, this is where the SSO user authentication service comes in; SSO means that users only need to remember their "single" password and this password grants them access to several accounts with the push of a button. Talk about efficient!
But only having one password is easier to hack?!
Sadly, this is a common statement and yes, it is true. If a hacker were to gain access to this one password, they can access all the other accounts associated with this main account. This may sound daunting, but this is just another reason that you should secure your accounts as much as you can! A good example would include having a complex password combined with an MFA option (Check out our previous blog to read more about MFA!). Did you know that 21% of users forget their passwords after just 2 weeks, and 25% forget one of their passwords at least once a day? With this in mind, there is no reason not to secure your account with SSO authentication! Save your own time and cut down on those pesky helpdesk waiting times!
SSO takes too long to implement!
PortalGuard makes it easy to implement SSO! Not only is the process straight forward and user-friendly but you also get support from a PortalGuard Engineer! They will show you how to implement an application and give you the opportunity to answer any questions you have about implementation before going through the process.The time SSO authentication takes to setup will very quickly be out scaled by the time users save by having an SSO solution in place. Prevention is always the best way to approach your technology (and life!) so take a little extra time now to setup SSO, it will make your life, as well as your users life a whole lot easier in the future!
SSO is too expensive!
SSO is definitely not free, but what is? The amount of money and time you can save by having an SSO solution in place can quickly make it a very worthwhile decision. Forrester Research estimates that the average cost of a single password reset done via helpdesk is around $70 and Gartner estimated that 20% to 50% of all helpdesk calls are for password resets! While SSO is definitely an investment, the studies speak for themselves and show that it is an investment that is well worth it in the long run.
In summary, SSO isn't as scary of a project as it's made out to be! The amount of time that users will save once SSO authentication is initiated will make the implementation process all worth it! With it in place you'll be increasing ROI with less helpdesk calls. Overall, users will spend less time trying to remember or reset their passwords and more time getting on with things they want to do! Let's not forget that you'll also be reducing the risk of users storing their passwords on paper or on their computers! Keep your productivity up with the peace of mind that your data is safe!