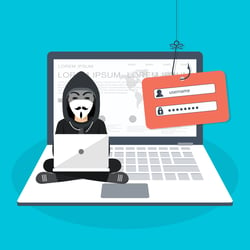 From a data breach investigation of Verizon, roughly one in 10 employees will click on a malicious email.
And the average phishing attack costs a mid-sized company $1.6 million.
Computer phishing attacks are fraudulent processes where victims are tricked into giving away sensitive user information, potentially putting an entire company at risk.
Unfortunately, computer phishing attacks are on the rise and are becoming both more sophisticated and tougher to spot. Symantec reports that phishing rates have increased across most industries and organization sizes, making no company or industry immune.
Employees can be an easy target for hackers, as many are not able to identify a phishing email. The key to protecting your company is educating your employees to identify phishing emails. So how can you help employees detect fraudulent emails? Learn 3 ways you can help your employees identify a phishing email or computer phishing attack below.
1) Educate your employees about phishing
Do your employees know what computer phishing is? Do they understand how phishing works? It's important for employees to know the different types of phishing attacks and to heighten their awareness for identifying phishing emails that seem odd in some way.
Identifying a phishing attack is often difficult. Bait phishing emails may appear to come from legitimate sources like PayPal or a credit card agency. They create urgency with a claim of a problem on the user's account, then cite the action the user needs to take, such as verifying their account, to rectify the issue. Clicking on the embedded link redirects the user to what appears to be their own account, but is in fact a phony lookalike designed to steal login credentials.
Phishing can also take place through social media, text messages, computers, and even telephone calls.
A particularly damaging example of phishing is whaling, a sophisticated form of phishing targeting C-suite employees with greater access to high value data.
2) Show employees what's out there
Cyber criminals are becoming increasingly creative in their attempts to penetrate businesses and steal information. Phishing links can be embedded within articles that appear to be legitimate websites. A user's attempt to scroll down to read the rest of an article can result in a click-through to a devious site where your data is captured.
Spear phishing uses an employee's social media updates to gain information and craft a credible looking email or message. An innocent individual thinks he is building his network with promising prospects when in fact he is being preyed upon by a scammer.
From fake invoices to Facebook email scams, hackers are experts at making phishing emails look realistic and convincing. Increasing awareness around common computer phishing attacks may reduce the chances of an employee clicking on a link that could give hackers access to employee passwords and compromise sensitive business data.
3) Remind employees to proceed with caution
Some email systems claim to filter out phishing attacks, but in reality, the hackers have the upper hand and a few scam phishing emails end up slipping through to a user's inbox. As busy employees plow speedily through an overloaded in-box, the risk is increased so identifying a phishing attack is important. While efficiency is important, taking an extra few seconds to carefully review emails before responding can mean the difference between avoiding a hack and becoming a victim.
IT-Online stresses vigilance. Double check spelling and hover over links before clicking on them to verify the destination is a legitimate site. A secure password manager with real-time cybersecurity screenings can also improve security and warn users about access to phishing sites that lead to harmful ransomware viruses.
Phishing attacks come in all shapes and sizes and employees need to be on alert. Take the measures above and keep cybersecurity top of mind to protect your business and your employees.
To learn more about how PortalGuard can help protect your business from harmful phishing attacks, request a demo.