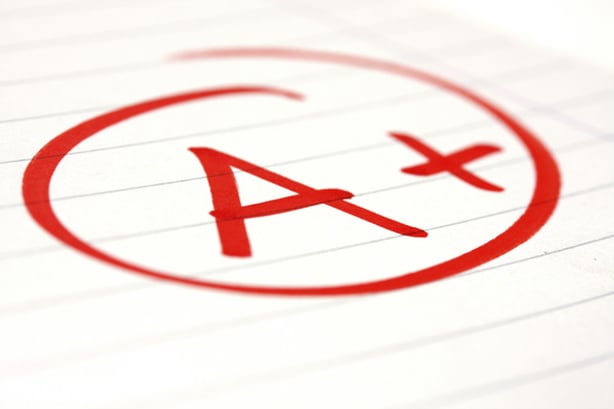 A+ in Usability
Get your umbrella out. It's raining apps! From the classroom to your personal photos, almost every app and aspect of a student's life can be stored in the cloud, and that makes for a lot of passwords to enter and remember. Studying late and locked out of Office 365? Looks like you will have to call the help desk; no need if a Self Service Password Reset Solution for education was in place!
Office 365 is one of many applications that students use, and with that comes another password to remember, not to mention the security now needed to protect your data from hacktivists! With Self Service Password Reset (SSPR) and Single Sign-on (SSO) solutions integrated with Office 365, students and faculty now have the power to reset their password, unlock their account, and access multiple apps from one entry point, improving the student usability all throughout Office 365!
My first introduction to Office 365 came while I was researching the best way to provide my college bound daughter with Microsoft Office tools for her fancy new touchscreen laptop. The concept of having everything online instead of cluttering up her hard drive was a welcomed idea over the traditional operating system loaded Office suite. But when she got to the part about having to create and enter a new password, the honeymoon was over. She said, "Dad, how many passwords am I gonna have to have in my lifetime?! Why can't I just get into the darn system and start working?" Sheepishly I explained how her files are now stored in a location not protected by her physical computer and if they weren't password protected; anyone could gain access to them. I took this opportunity in my daughter's life to also introduce her to the benefits of single sign on for Office 365 and other secured applications.
This uncomfortable feeling/experience she just had the pleasure of enduring is far too common these days, especially once you get to the work force and "real life". Imagine a company of hundreds or even thousands of people that have access to Office 365 and each person has their own password to create, manage and protect. The odds of end-users forgetting their passwords and of course all at the same time, usually first thing Monday morning, are very high and keeps many IT professionals awake at night or at a minimum from enjoying their morning coffee. If the password is not forgotten, the users still have to go through the manual process of entering their credentials to get in. This comes after logging into Windows and possibly their VPN and who knows what other places that require protected access. You might already be aware by now in this article that I am heading toward the benefits of single sign on for Office 365.
"Well then coach, what are the benefits of single sign on for Office 365?" , you might ask. For the end user, the SSO experience is like getting all green lights the entire ride to work. SSO to Office 365 benefits the end user as well as your IT team. User's no longer forget passwords and have a much more streamlined authentication process every morning and the IT team will be freed up to work on more pressing issues/projects than password changes all morning. Production increases for the company as well as for the IT team itself and employee morale should also see an improvement.
Swinging too far towards security comes at the cost of usability. SSO can help increase both security and usability for your users. SSO allows the end-user to login to a single portal and access multiple applications seamlessly, eliminating secondary login screens and increasing usability. Security is increased with SSO by having a central entry point where things like password expiration, strong password complexity rules and stronger authentication like MFA or knowledge-based authentication (KBA) can be centrally enforced.
Forgotten passwords, password expirations, and helpdesk calls: these create frustrations for both the user and the IT professionals. With Self Service Password Reset in place, you give the power to the user to reset their forgotten password, reducing helpdesk calls, increasing ROI.
As you can see, your students and faculty need that extra level of Identity Management, and your college or university could use the extra ROI. Many colleges and universities have integrated with PortalGuard, bringing them the level of Identity Management they need and the ROI their boss loves!
Office 365 Integration: SSO, SSPR, and MFA
With PortalGuard, schools can get on the level of identity management they need. Gregg Browinski, Principal Software Developer at BIO-key, commented on the level of identity management and security with PortalGuard:
"Using Office 365 guarantees 99.9% uptime for your campus email infrastructure, but this benefit is moot if students forget their passwords and can't login. Federating Office 365 with a local ADFS instance can allow SSO but this just pushes a 'forgotten password' scenario further back to the desktop login and still lacks stronger two-factor authentication or self-service password reset options." Browinski continues, "Swapping PortalGuard in place of ADFS in this architecture can provide standards-based web SSO and highly flexible SSPR from a single, tightly integrated, brandable, login interface."
Using PortalGuard's SSPR, students and faculty are given the power to reset their passwords from the web or desktop, reducing help desk calls and increasing ROI. SSO streamlines the login and reduces the barriers to access; with just a single login, the students and faculty gain access to all of their authorized applications, including: Blackboard, Moodle, Canvas, Banner, Google Apps, and Office 365.
PortalGuard provides you with the level of identity management your campus needs. Click here to learn more about PortalGuard's seamless Office 365 integration and other education applications or visit our Education Page here.