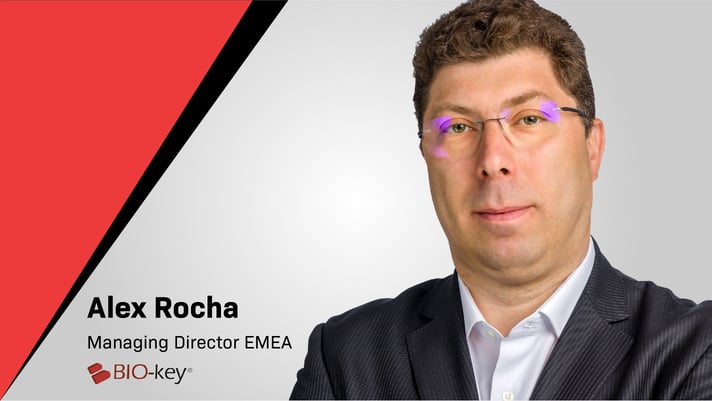 BIO-key has always been a global organization and we are excited to strengthen our global presence and expand our offerings in EMEA and around the world, with the recent acquisition of Swivel Secure Europe and the appointment of Alex Rocha as the Managing Director for BIO-key in EMEA.
We recently sat down with Alex to discuss his new role and what this means for BIO-key and the global markets we serve.
Alex, let's start by having you introduce yourself and sharing a little bit more about your experience before joining BIO-key.  
I'd be happy to. I have a long history within the technology and cybersecurity market throughout my career. I am genuinely a technology enthusiast. I have a Bachelor's Degree in Game Theory for Strategic Advantage from MIT, an eMBA from ESIC Business & Marketing School in Madrid, and a degree in IT from the Instituto Superior Técnico in Lisbon. I've lived and worked in four countries and speak four languages fluently.  I consider myself a cybersecurity leader and have multiple awards and certifications, including CompTIA Security+, CISSP from (ISC)², and IRAM2 from ISF.  I've been a sales leader for more than 15 years. I've previously held Senior Executive positions, leading high-growth technology companies like 3M, Altran, Deloitte, and Swivel Secure Europe to achieve their objectives. In my previous role as CEO at Swivel Secure, I successfully expanded the company into several new markets, including the Middle East. I secured multiple global strategic alliances including SailPoint and SAP. From the new office in Madrid, I'll lead our European-based team to expand our services and sales in the region.
BIO-key has been international but what does it mean for the business to have an established team in EMEA? 

 Our goal is to strengthen BIO-key's global presence and expand our services to EMEA and reach other markets around the world. The idea is to lead global projects in the majority of Europe in 2022, and we believe we can achieve our goals and continue offering our best solutions for all sizes of corporations. We're excited to bring our experience to the EMEA market, and for our partners to join BIO-key in helping expand its worldwide footprint. We have long-standing relationships with many customers and believe that this, in combination with our international experience, will deliver improved customer capabilities and service levels to a global audience.
Which markets do you believe have the greatest need for BIO-key across EMEA? 
I see the identity sector as dynamic, but the areas where we already have existing relationships – UK, Germany, Spain, and UAE – are primary markets as we continue to expand BIO-key in EMEA. Those regions are our first targets, and we plan to fully expand our operations more broadly to continue to grow our business in Asia and Africa as well. With a truly global footprint, we believe we can help international organizations operate more safely and efficiently by increasing the adoption of Identity-Bound Biometrics around the world.
Developing the channel is something you've focused on throughout your career. How will partners help build the business in Europe? 
 
As the Managing Director in EMEA, I'm excited to start forming new relationships with distributors, resellers, and partners. With more than 15 years of cybersecurity experience, I've been able to strengthen strategic technology partnerships with important integrators and key cybersecurity players in the market, such as Microsoft, Citrix, Palo Alto, SailPoint, and SAP. I'm excited to bring a similar strategic approach to BIO-key, where there is a strong potential to innovate with industry and channel leaders.
 
What excites you most about your new role and the future of BIO-key in EMEA?
We are expanding our global sales footprint by offering an industry-leading solution for  Identity and Access Management (IAM) unlike any other available, which features Identity-Bound Biometric authentication options. BIO-key is already a leader across many different verticals, and our goal is to penetrate new industries while achieving even higher growth in those existing spaces.
Most importantly, however, is to remember that a company's success relies on its people. I'm excited to create a new, strong, local presence in strategic markets with an engine powered by a highly skilled and experienced team.
Interested in hearing more about our IAM and Identity-Bound Biometric solutions? Find it all here. 
If you want to read more about our leadership team, you can find more information here.