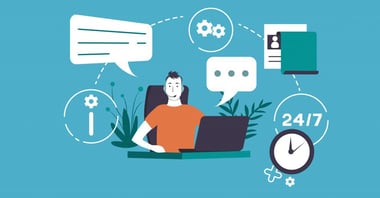 Customer support is pivotal in every vertical for a simple reason: customers keep companies alive. Existing customers provide feedback, revenue flow, and even referral business for a given company. This only remains true if customers are happy and cared for throughout the lifetime of the partnership. Elite and dedicated customer support drives customer relationships and enables companies to maintain a high bar for continued business and partnerships. To that end, ensuring that your company is using the right method of dedicated customer support becomes key in placing your best foot forward.
Modern businesses have a swathe of available verticals for customer communication. Providing these options ensures that customers can receive the support and information needed to continue down any given path. Customers may seek to learn more about a product they are considering, or else they may be looking for self-education on additional functionality for a product they already have. Alternatively, customers may instead be on a path to purchase a new product. In any case, open lines of communication are key to ensuring a satisfied customer from the beginning of the process, through to the end of the line.
To that end, solutions such as HappyFox provide a welcome avenue of improving customer relationships by upgrading existing communication verticals and introducing even more versatile options. Here at PistolStar Inc., we utilize the HappyFox Help Desk software regularly to help provide and maintain our high level of support for our customers. This support includes deployment, setup, or configuration of the many features that our products support. The flexibility of HappyFox Help Desk software streamlines the support process on both sides, improving the experience for support agents and customers alike.
Understanding the Problem – Admins and End-Users
Within HappyFox Help Desk software, "customers" are the end-users. PistolStar Inc. customers have multiple avenues available through which to receive support, including direct email communication, phone calls, live chat on the web, and the use of a user-specific Help Desk Portal. In keeping with our philosophy of end-user and customer support, HappyFox Help Desk software adds additional utility while maintaining and improving existing support avenues along the way.

Our customers use PortalGuard to streamline access and keep their business data secure. In that endeavor, nimble support is key. Improving ease of access on both ends of the spectrum builds stronger relationships and allows for an open dialogue between the user (our customers) and the administrator (the PistolStar support engineer). Not only does this practice improve the speed and quality of support, but the strong support experience nurtures the customer relationship as it unfolds.
Timely support
HappyFox further improves upon the standard support formula by enabling an entire team to clearly and concisely work with end-users to solve problems. Support tickets are assigned to specific "agents", but a ticket is never unattended for long. If the assigned agent is unavailable, another member of the team can hop on and assist as needed, ensuring the customer receives the support needed in a timely manner.
Answers at your fingertips
Customer support is all about meeting customer needs. We pride ourselves on serving our customers and providing the right answers to questions and problems that arise. That support begins with one-on-one assistance and develops immediately to guiding our customers and offering an ongoing dynamic knowledge base. This Knowledge Base – or KB – provides customers with the information they need to help themselves as needed with deployment, server setup, identity management tools, and authentication solutions.
The KB for PortalGuard can be found at this link.
Where do we go from here?
Dedicated customer support is all about knowledge. That knowledge can come from training, direct interaction with a support engineer, or through self-education. We refuse to hoard information and choose instead to empower our customers to complete the task at hand with as few roadblocks as possible. Some customers and certain tasks require expert assistance, however, and that's why our team is here to help when the waters get just a little too rough.
Dedicated customer support is a moving target. It requires input and interaction of both sides to provide a positive experience all around. At PistolStar Inc., we work for our customers as well as with them to ensure that said experience remains above the bar and sets an example for what support should be!
If you have any questions or input on our dedicated support, please reach out and let us know. We are here to help.