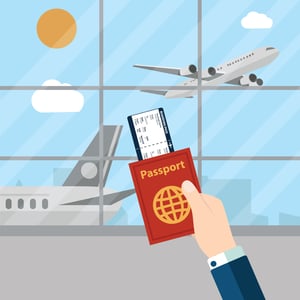 My recent travels abroad have made me think about how I keep my information safe while I am in a new country. As I was packing my carry-on with snacks, spare toiletries (in case we were stranded), external battery packs (to binge the latest on Netflix), and the multitude of chargers that accompany our tablets and phones, I hesitated. How am I going to protect the information on all of my devices? Should I download the latest security applications or would that be overkill? To some, it may be over the top, and to others just what is needed to keep the mind at ease. In my case, downloading these extra security measures kept me sane while traveling across the pond!
As we made our way to the airport and the plane, I was also concerned with the FREE WIFI that is offered at each stop. Allowing your device to connect without knowing the repercussions or what threats were lingering, kept me on edge. When you are on vacation you are meant to shut off from the outside world, but we all look at the occasional work or personal email from time to time. Accessing personal or business information while on a public Wi-Fi connection, like free airport wifi, can be a huge security concern! A good rule of caution: Always be vigilant when it comes to accessing your information on a public Wi-Fi.
How to protect your information while on public internet access
If you are accessing your private email through Microsoft or Google, there are free Multi-Factor Authentication tools available to use, such as Microsoft Authenticator, or Google's Authenticator application. For those who prefer not to enable 2FA, there are still ways to improve your online privacy and security. One way is to make sure your password is strong and complex. Passphrases and creating a strong password policy are good defenses against those trying to gain access.
What about work applications?
If your company takes security compliance seriously, or is looking to join the 2FA movement, then there are several options out there to protect work applications from harmful threats when using public internet access, like free airport wifi. It's easy to be complacent and use one vendor that just satisfies the compliance or proactive approach. For example, Google Authenticator is a great application that is widely used for personal and work applications. However, the problem with just sticking with one method is that it may not fit the needs of every individual in an organization. End users who refuse to put applications on their personal cell phone are a prime example of why it is not good to stick with one method. There will always be the end-user who makes a fuss about the processes your security team has worked hard on to put into place to ensure security compliance's are met.
Tackling the problem firsthand can be a challenge, but the key is to look for a solution that empowers the IT admins to act as a traffic cop at a four-way intersection. In the blog article, Multi-Factor Authentication for Higher Education, it explains just how effective it is to enable multiple options for 2FA. The concepts and methods in this article can also apply to any organization. It is up to the administrator to control the end-user experience when it applies to two-factor, giving a sense of balance usability and security.
Having multiple MFA options allows for a better adoption rate within an organization because end-users have a sense of control with how they get to protect their data. The goal is to increase productivity and usage while providing a completely secure connection to web applications. In my experience, the less obstacles that are in my way directly correlate to how often I would use a functionality. Whether you are checking emails overseas or down the street at the local coffee shop, Multi-Factor Authentication helps you meet compliance. Learn how PortalGuard is integrating its multi-factor authentication today.
Read more about MFA with these blogs and white papers!
Blog: Enforcing Two-Factor for All Access to Office 365 Email
Blog: 5 Ways PortalGuard Helps Institutions Implement 2FA
White Paper: The Argument for a Better Authenticator
White Paper: Overcoming 2FA Hurdles