Schools are becoming easy targets for cyber criminals, not only in New Hampshire but across the country. Exposing, compromising and exploiting confidential information to make an easy profit or to test their skills. The Cybersecurity incident map, a useful tool created by Doug Levins of EdTech Strategies, LLC., provides an in depth look of past and recent events. (For those who haven't bookmarked this page yet, I highly recommend it!)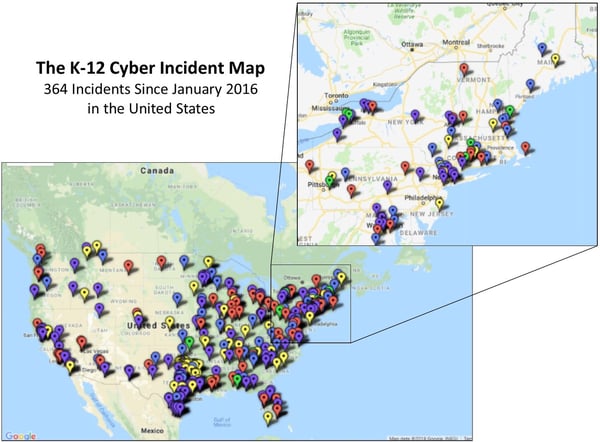 These incidents are on the rise as many school districts are still not prepared for the simplest of attacks. Such attacks like phishing emails, and password spray attacks. As mentioned in a previous blog article, Combating Password Spray Attacks, the end goal for a hacker is to compromise your credentials. These scams of exposing credentials of weak end-users that lack cybersecurity awareness and password strength knowledge. We have all created easy passwords to remember that may not be the strongest or most secure creating an Identity Management nightmare for IT departments. The state of New Hampshire has been busy at work taking a proactive approach by implementing House Bill 1612 to protect records of users in schools, both private and public sectors.
How can PortalGuard help?
PortalGuard provides Cybersecurity access control to its users with its state-of-the-art Single Sign-On (SSO), Self-Service Password Reset (SSPR), and Two-Factor Authentication (2FA). Schools all over the country have trusted PortalGuard since 2000 for User Identity Management. A simple on-premise, no client-side extension solution. Remembering passwords to multiple web applications can lead to the creation of poor passwords and/or using the same password for multiple sites. This practice makes it easy for hackers to obtain information and exploit any account. Having a single-entry point with PortalGuard as the secure front door will help prevent and deter any attempt. SSO coupled with 2FA creates a major hurdle for hackers to overcome without sacrificing usability to the end-user. The last caveat from PortalGuard, is the SSPR functionality, the longest and most diverse functionality of the complete PortalGuard solution. This allows the IT Help Desk workers and admin to focus on important projects. Little "Jimmy" won't have to interrupt class because he forgot his password over break. The excuse of getting locked out of the LMS, where assignments are posted, becomes obsolete. Teachers can focus on educating, while IT staff get the much-needed break from the password resets they deserve.
Our blog article on Strengthening Password Policies - Length, Complexity, 2FA highlights the importance of passwords with 2FA to create a secure login experience for end-users.
Be Proactive
This house bill that was signed this past summer is only the beginning. It is only a matter of time before more policies are passed to protect the identities of schools. Higher Education Institutions are rapidly adopting 2FA ahead of state and federal regulations, and for good reasons. An Iranian hacking group has been recently mentioned in the news for stealing intellectual property from 76 Universities around the world. By mimicking login pages, such as Office 365, hackers gain access to user credentials and information. PortalGuard can help deter and prevent these kinds of attacks with customized portals unique to an institutions brand. To learn more about preparing your environment check out this white paper, Filling the Gaps in Office 365.
Start protecting your environment and schedule a 30-minute Information Exchange with us today!
Don't let your school be the next victim of a Cyber-attack!