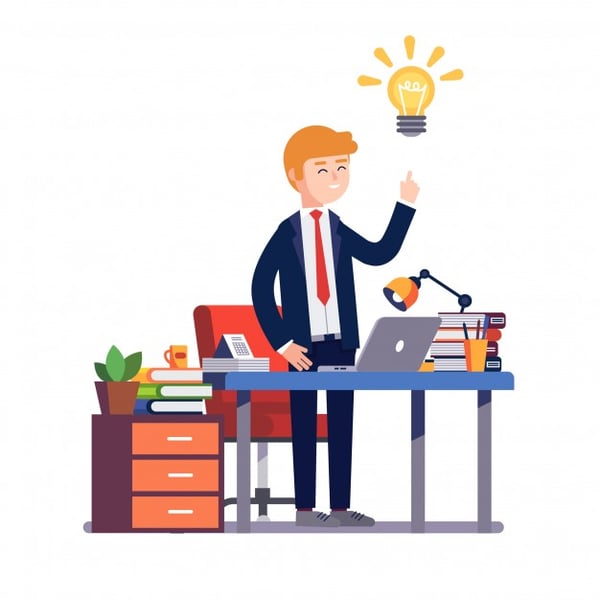 The world is improving on convenience every day. Find me someone that doesn't love being able to proceed with something with little effort or difficulty. When it comes to shopping for household staples, forget going to the store! I just order online from Amazon. This is the same for ordering my farm to table weekly meal delivery. Also, I haven't been to the dry cleaner since they started picking it up and delivering to my office directly. My wish list keeps growing as I am sure yours does as well. Sometimes even subtle conveniences such as a mannequin showing off the latest styles and color combinations make shopping effortless. That looks great to me, wrap it up. Then there's self-service gas stations and picking up milk at the local convenience store with the quick in and out access we've been enjoying for decades. Having a one-click solution can be a powerful tool to make users' lives easier. Learn more about this below.
Ingrained Workarounds
On the other hand, we have also adapted to many inconveniences. We workaround those pains without batting an eyelash. Well, not really, we grimace every time we do the task. Most times when an inconvenience becomes so ingrained, we don't even try to find a solution and just end up living with it. Then there are the inconveniences we don't know are coming. How about a serious inconvenience like a security breach? Ouch! What's worse? The extra step on every login to involve your phone a little or the ramifications of your personal or company data being exposed and used against you. We are constantly evaluating the trade-offs, but more often than not we opt for the friction-less experience.
Once a friction-less method appears before us, perhaps accidentally, we marvel at the simplicity of fewer steps…. the all-in-one solution, if you will. Wow, that just reduced my effort – which is very appealing to my overwhelmingly time-crunched day.
Buy One, Get Many Free
Rather than piecing together solutions from different vendors, look for an all-in-one solution to manage your endless growing list of logins, logins, and logins. Why some many logins you ask? We are seeing an explosion of highly specialized cloud apps that provide us with more "convenient" apps like Box.com, HubSpot.com, and Salesforce.com, to mention three hugely popular sites. However, the biggest disruptions of my day are the passwords I forget because I have 30 apps I don't use on a daily basis. Therefore many users would rather have flexible ways to self-service their own password resets themselves. I want options that suit me and will truly make my life easier. But if I can save a reset, to begin with, because the software remembers who-I-am and my password rather than me trying to remember all these passwords then I'd be really increasing my convenience factor.
Jumping Off Point
So instead of jumping, out of pure frustration, try using a convenient "jump page" instead. A page commonly referred to as a jump page that contains all your cloud applications that are organized, pre-loaded for when you need instant access. A "one-click" method or an easy camera badge scan is all it takes to identify you and ALL your specialized web apps. Click on the app icon to log in and alleviate the stress and frustration associated with password fatigue. It's one-stop shopping that combines simple, effortless access to streamline your busy day.
How Does It Work?
The key to this SSO authentication is to enable a proxy server which provides better control over your authentication with no client-side software and leverages your Active Directory account login, it's browser agnostic, and offers universal logoff. This approach also gives additional cyber-security side benefits that check and warn you of poor password quality, warns you of phishing attempts, and keeps all your private passwords on-premises and not in a password honeypot located conveniently in the cloud for hackers to find.
Discover more about the power of convenience!