As the year ends, IT directors and decision-makers such as yourself may be investigating new Identity and Access Management solutions to upgrade existing ones, or you want to deploy an IAM solution for the first time. Today, organizations know IAM is a requirement to work in the digital world, especially as we face remote work and fight against stronger cybersecurity threats. However, with so many competitors and options, how do you know which IAM solution fits you the best?
One way is to look at solutions that have raving reviews from their customers. G2.com, the leading provider of business software and service reviews, ranked BIO-key PortalGuard in their latest Winter 2022 reports for categories, including multi-factor authentication (MFA), single-sign on (SSO), and self-service password reset (SSPR).
Visit the PortalGuard G2 Page here!
Based on high levels of customer satisfaction and their likeliness to recommend PortalGuard ratings, BIO-key PortalGuard continues to receive the following honors for Multi-factor Authentication (MFA):
High Performer

Highest User Adoption

Users Most Likely to Recommend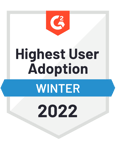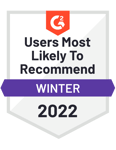 However, the Winter G2 reports, also highlighted PortalGuard as offering one of the highest levels (97%) of quality support among the vendors included in the report. Additionally, users find BIO-key PortalGuard easy to do business with, highlighting our ongoing mission of putting our customers first.
Compared to the Fall 2021 reports, in the Winter 2022 Reports, for Self-Service Password Reset (SSPR), PortalGuard was not only named a High Performer but also received honors in:
Fastest Implementation

Best Relationship and Best Support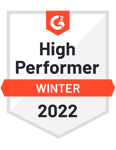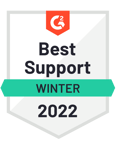 Lastly, PortalGuard received its first honors in the single sign-on (SSO) category:
Easiest Doing Business With

High Performer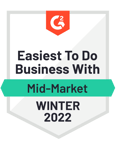 With over 1,000 customers, including 200+ higher education institutions, these reviews are a reflection of the strong customer relationships we maintain and how much customers trust us to reduce password-related help desk calls by up to 95%, eliminate passwords, secure remote access, prevent phishing attacks, and improve productivity for their IT teams.
Learn more about what real users said about us (or leave your own review of PortalGuard) by visiting our review page!