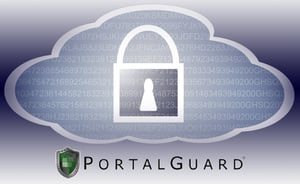 Here at PortalGuard, we're always looking to the future. Whatever the next way is for us to improve our products, our culture, ourselves, and the lives of our customers, we're there. In one of the fastest moving and constantly evolving industries, we take pride in staying ahead of the cutting edge. We are committed to leveraging new technologies in new ways so that we can continue to meet the needs of our customers.
It's with great excitement that we're ready to announce our latest ambitious project: We're putting PortalGuard in the cloud.
PortalGuard SaaS is in every way the same PortalGuard you already know. We've proven time and time again that we're second to none in security, flexibility and support. Now, by utilizing the most powerful cloud technologies available, we're bringing PortalGuard even further by taking the infrastructure, maintenance, and resource efficiency into our own hands, so that you don't have to. Oh, and did we mention we're giving PortalGuard management and configuration a whole new look to rival the best UX (user experience) practices in the industry?
Now let's take a deeper dive into what PortalGuard's Software as a Service (SaaS) can do for you.
Accessibility
Fear not, your PortalGuard SaaS instance will always be available. Period. We've leveraged several industry leaders to construct a cloud infrastructure that not only exceeds service-level-agreements, but also provides the fastest speeds available, regardless of your geographical location.
Need to make a system change right now? With PortalGuard SaaS you can -- from anywhere, at any time. Configuring PortalGuard in the cloud is as simple as opening your browser or taking out your phone.
Efficiency
Perhaps your servers can handle day-to-day traffic well enough, but you fear whether they can stand up to the autumn traffic surge you experience each year. Or, maybe you purchased some high-end servers, but feel you're dedicating too much computer power to a task that may not require it, and that power would be better used elsewhere.
Why purchase moderately powered servers and suffer during a surge of traffic, and why purchase top-of-the-line servers that sit idle most of the time? With PortalGuard SaaS, worry no more. The elastic cloud is self-optimizing by evaluating and adjusting your resource usage in real-time. Who needs servers anyway?
Always the latest and greatest
In the cloud, there's no more worrying about software updates and upgrades. You are always on the latest version, with the most up-to-date features. Gone are the days of carving out time and resources to perform risky maintenance operations on your systems, where one wrong move can leave you struggling to recover, wondering if a backup exists, and facing a whole lot of calls from angry end users. As PortalGuard continues to expand its functionality, you'll be able to access those features immediately and effortlessly on their release.
The bottom line … identity management solutions just got much easier. By taking the best and most comprehensive single sign-on, self-service password reset, and two-factor authentication offering on the market, and placing it into the cloud, we've combined security with convenience more tightly than ever before. We hope that you're excited for the future of PortalGuard, because we sure are!
Ready to learn more about PortalGuard's Software as a Service (SaaS)? Contact us.