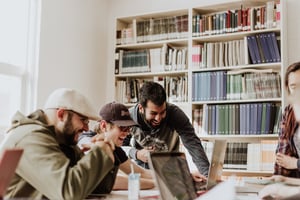 In today's digital age, students need more than the recommended books, a pen and a notebook to be successful. Expensive software, online resources, group chats and a variety of apps are now commonplace in the classroom. While this technology can enhance learning, it does come with its own set of challenges. Simply trying to remember and create all of the passwords needed for multiple required apps can be overwhelming and time consuming.
As a student, I've struggling with password overload myself, so Unity College's transition from multiple logins for multiple applications to one portal for an entire suite of apps is something extremely appealing to me. Even though I was not a student at Unity College when their transition took place, I experienced similar technology and security situations at my university.
Before Single Sign-On
Before Single Sign-On (SSO) was implemented at my school, I would sign into the application suite that hosts my student account. The suite usually includes a word processing application, such as Microsoft Office or Google Drive, so students can type up assignments. The rest of the applications describe courses offered at the school: C++ or Python for programming students, PASCO's Capstone data collector for physics students, or Waves MaxxAudio Pro for audio engineers.
Suppose a school like Unity College purchases an organizational account with LucidChart, an online application which organizes data into tables or flowcharts. Any student who uses LucidChart must login with their student username. Then the student is prompted to create a second password to use when signing into LucidChart.
When the student completes the assignment requiring a LucidChart graph, the second password is often forgotten, and the LucidChart application goes unused. Despite the fact that the application could help visual learners organize lecture content, it remains untouched because resetting that second password is too much of a hassle to deal with. (Please join me in a moment of silence for my lack of LucidChart use due to a forgotten password. Thank you.)
Enter Single Sign-On
With Single Sign-On, the student simply logs in to a portal with one password. Once logged in, a landing page displays every application the student has access to. From there, students can click on any application to sign in – no additional passwords needed. Sure, I know of landing pages with links to all of the school's applications, but I have to sign in to every single one individually … SSO eliminates the use of multiple log ins and multiple passwords. The password is the same no matter which application I sign onto. It almost seems too good to be true!
Reset Your Own Passwords … Yes Please!
Another feature Unity College enjoys is Self-Service Password Reset (SSPR). I have both personally reset my student account password and (prior to the ability to self-serve) made the onerous journey to the IT helpdesk. It is far easier to reset my own password wherever I have an internet connection than to go somewhere to have someone else reset it for me. Students juggling class schedules have to estimate how long the wait will take and may run out of time while waiting in line, requiring an additional visit.
I'm not surprised using PortalGuard's Self-Service Password Reset dramatically decreased Unity College's number of help desk visits. Students can use this tool whenever they need it — saving time and energy. As a college student, I approve.
To learn more about how Unity College made their students' lives a whole lot easier with SSO, download the case study.