Moving away from the password-based authentication method is a step in the right direction – but the answer isn't always straightforward. Unfortunately, most passwordless options take a step backwards in terms of security by relying on tokens, devices or phones to execute the authentication process as a single factor. The core challenges with these methods include:
High costs + investments

Insufficient security

Implausible or unsafe for core business areas
If you're ready to discover a better way to go passwordless, keep reading to see how you can eliminate passwords – no phones or tokens required.
Passwordless authentication with Identity-Bound Biometrics uses the person as the credential for authentication. With a simple scan of a finger at any device in any location, it is the safest, most efficient, most cost-effective, and most secure option for a range of scenarios and business-critical operations across industries.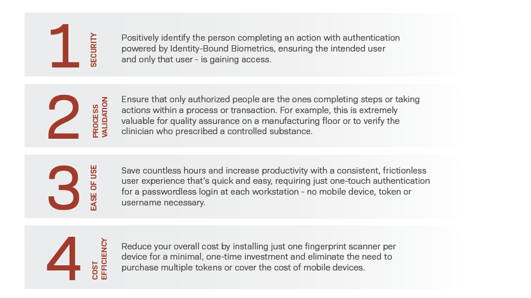 Interested in learning more about passwordless authentication with Identity-Bound Biometrics? Download the full Passwordless eBook to explore key benefits, business use cases, and how passwordless authentication with IBB can work for you.
If you're ready to take the next step today, please do not hesitate to reach out to our team directly.