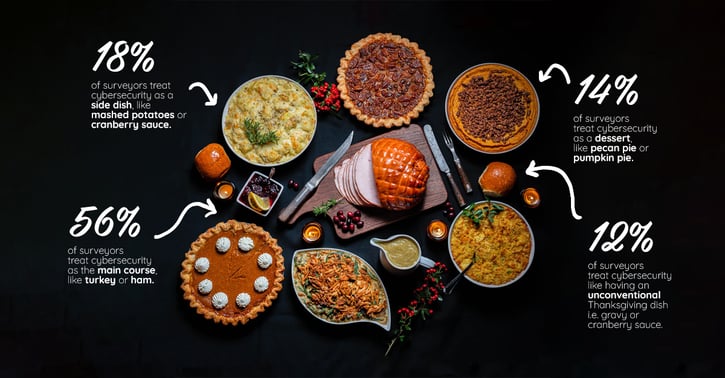 As we approach the end of the year, many organizations and employees alike are beginning to wind down for the upcoming holiday season. Those living in the United States can look forward to large potluck dinners and family gatherings for the upcoming holiday – Thanksgiving.
However, what makes Thanksgiving a "Thanksgiving dinner" is the classic dishes that are served throughout the night: turkey, mashed potatoes, stuffing, cranberry sauce, and pie for dessert. As everyone knows, Thanksgiving dishes have a hierarchy of priority. The main course is turkey, served alongside the mashed potatoes, cranberry sauce, bean casserole, and for dessert lovers, a pumpkin or pecan pie.
With this in mind, we wanted to match a company's priority of cybersecurity to a Thanksgiving dish. Throughout the year, we have noticed more and more cyberattacks, some even affecting our crucial industries and critical infrastructure - so does this impact peoples' perspective on cybersecurity this year?
We asked IT professionals, "if cybersecurity was a dish at Thanksgiving, what dish would it be?" Respondents were able to choose from mashed potatoes, turkey, pumpkin pie, and other. In 2021, 54% of surveyors said cybersecurity should be treated as the main course, being a big priority for IT teams in 2022. However, some users did point out that cybersecurity is like cranberry sauce, where everyone knows it exists, but some only take a little, while others completely avoid it. Unfortunately, in 2021, amongst the chaos of cyberattacks, that was the trend.
Here's how 160 IT professionals equated cybersecurity in 2022:
Turkey (the main course): 56%

Mashed potatoes (or other side dish): 18%

Pumpkin pie: 14%

Other Thanksgiving dish: 12%
Like last year, many IT professionals see cybersecurity as the main priority like the Thanksgiving turkey. However, many others surveyed noted that cybersecurity is like the gravy, "it goes on everything" or as an appetizer, as "it comes first before everything."
When you consider the growing cyberattacks and efforts to mitigate them like cyber insurance and the shift to passwordless authentication, it makes sense why many do, in fact, see cybersecurity as the main course of IT efforts.
The Spike in Cyberattacks Drives the Increased Investment for Cybersecurity
Cybersecurity continues to be a prime concern, and it's evident with the increase in investments and efforts. For example, cyber insurance is crucial for many organizations, and in order to reduce the high premiums, they have been implementing Multi-factor Authentication methods. According to Gartner Forecasts, worldwide IT spending is projected to reach $4.6 trillion in 2023 with 51% of businesses planning to increase their spending.1
Throughout 2022, organizations have seen a spike specifically in cloud-based cyberattacks. Threat actors are using cloud technologies to spread malware via malicious online documents and downloadable media. With 95% of workloads going to the cloud by 20252, it's clear why cyberattacks in the cloud are going to continue to spike, and why cybersecurity efforts need to be focused on the cloud.
What will Thanksgiving 2023 look like?
Our prediction is that many IT directors will continue to treat cybersecurity like Thanksgiving turkey – a major priority for IT teams. Investments will continue to increase for stronger, newer, and more importantly, crucial, cybersecurity controls.
Acknowledging that cybersecurity is as important as the Thanksgiving turkey means CIOs, CISOs, and most businesses stakeholders expect to keep cybersecurity top of mind this holiday season and into the future.
References:
1https://www.gartner.com/en/newsroom/press-releases/2022-10-19-gartner-forecasts-worldwide-it-spending-to-grow-5-percent-in-2023
2https://www.forbes.com/sites/forbestechcouncil/2022/10/28/cyberattacks-2022-key-observations-and-takeaways/?sh=72f14310f055