It's been an exciting 2021 so far as the wheels continue to turn in the identity industry. Most recently, BIO-key was recognized by SC Media in its 2021 Trust Awards as one of the finalists and leading providers of Identity and Access Management (IAM) solutions, recognized for the quality, security, and ease of use of our PortalGuard IDaaS platform.
The annual awards recognize the security products and services that earn high marks for market penetration, functionality, manageability, ease of use, scalability and customer service and support. As we continue to watch the industry grow, it is an honor, and we would like to thank SC Media for selecting PortalGuard IDaaS as a notable player in the Best Authentication Technology category.
Our PortalGuard IDaaS solution was competing against a strong set of companies who have significant brand awareness and customer adoption. In a field of industry giants, BIO-key stood out as the only provider to offer customers a full spectrum of flexible options, including the option to secure authentication processes against account sharing and delegation as well as authenticating users without phones or tokens, where appropriate.
Being a finalist for this award recognizes PortalGuard IDaaS as the comprehensive IAM solution that it is – trusted by customers across the education, healthcare, manufacturing, finance, and government industries for over 20 years to keep their data, employees, and customers safe.
PortalGuard supports over 15 authentication methods for multi-factor and adaptive authentication, allowing administrators to decide which methods best support their security policies and user scenarios. Within PortalGuard, BIO-key's Identity-Bound Biometrics (IBB), such as fingerprint and palm scanning, support passwordless workflows with high levels of integrity, availability, security, and accuracy. Unlike user-governed device-based biometrics, IBB is permanently bound to the digital identity to make sure the authorized user is the only one who can login.
Congrats to all the innovative companies that participated in the SC Media 2021 Trust Awards. We look forward to seeing you all again in 2022.
---
Sign-up for a FREE Trial of PortalGuard IDaaS!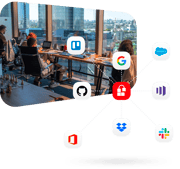 With your free trial you will be able to test out: