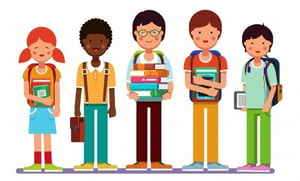 Login and password security might sound funny to talk about in a classroom setting for children as young as Kindergarten through third grade, but in a world with constantly evolving technology, the argument could be made that its better to start them young. In today's world hackers are everywhere trying to steal any information they can get their hands on. In each child today there seems to be an inherent trust in the technology surrounding them. As adults, it is our responsibility to teach and to do this, we must look to teachers and education professionals to be the driving force. Learn more about the cyber security challenges that exist in today's classrooms.
We recently interviewed a third-grade teacher in an Ohio school district to get her perspective on the challenges of cybersecurity in the classroom. Teaching math and English language arts, her students use Chromebooks on a daily-basis. Most of the curriculum is supported digitally which gives her the ability to create assignments and quizzes, give formative and summative assessments, and see student data, among many other learning opportunities. The challenges she faces in the classroom include cybersecurity issues, lack of computer skills in young students who are used to touch screens, and students who come from low socio-economic backgrounds who do not have the same experiences or opportunities that more affluent families may have. All of this affects the way students develop computer skills and cybersecurity habits.
Cybersecurity Challenges
Every student's login credentials follow a specific formula (i.e. 5-digit student ID numbers act as their username and passwords are a combination of their birth date and parts of their last name). Teachers in this school district have noticed students quickly pick up on these patterns and 'hack' into other student's accounts. The responsibility of password storing and organizing falls on the teacher in each individual classroom. Some teachers combat this with special binders that house all the passwords for every application that their students use. Some credentials are predetermined by a specific program, while others are set by the teacher. When creating these credentials for their students, teachers often use the same credentials across programs because it is what a student is familiar with, what is easiest and least time consuming on both parties. Each student carries two copies of their own "Password Page". One copy stays in their homework folder and the other stays in the classroom. In the teacher's password binder, there is a copy of this same page in case the first two are misplaced by the student. Misplacing a password page also puts the student's information at risk.
Besides putting the student's information at risk, when passwords are misplaced and need to be reset, the teacher needs to contact the IT Department and have them investigate any issues that may have happened. The teacher does not have the authority to manage individual passwords. This ties up IT with simple, but time-consuming issues, and the teacher is spending time on a task instead of valuable teaching time.
Although the work-around's are 'working' for teachers, keeping better track of passwords can safely secure them more efficiently while also teaching the students the importance of authentication security.
Remembering should be for lessons, not for passwords.
To read more about the PortalGuard's password solutions for young students, check out Addressing Single Sign-On Challenges in the Classroom for Impaired Students.