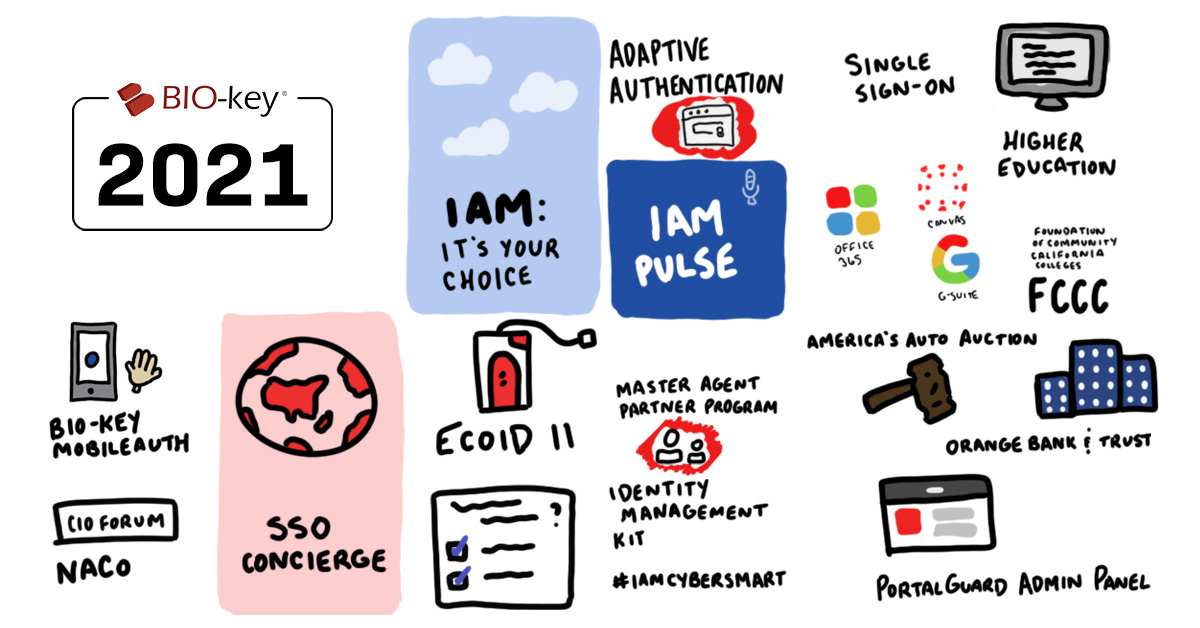 At BIO-key, a lot has happened this year. With new product launches, insightful blogs, and sharing lots and lots of cybersecurity news, we've published more than 50 press releases, webinars, blogs, and eBooks in 2021.
Looking back over the crazy year that 2021 has been for most of us, here's our list of just some of the highlights we had.
In January, we launched the "IAM: It's Your Choice Campaign" highlighting the need for organizations to look for flexibility when selecting an IAM solution.
When an IAM solution isn't the best fit for your IAM strategy, or when authentication methods don't work for your customers or employees, it can increase cyber risk, impact user adoption, and stress out the IT team. The key to a successful IAM strategy is to have flexible options for your users. This campaign highlighted our PortalGuard IDaaS solution, which allows customers to secure identity the way they want. If you want to watch the demo we hosted back in the beginning of the year, check it out here.
In February, we improved our authentication capabilities with better Adaptive Authentication and upgrades to our Identity-Bound Biometrics
We refined PortalGuard's Contextual or Adaptive Authentication to add additional context and risk-balancing controls when users request access. This helps strike a balance between security and convenience for our customers and their users. Additionally, the newer version of WEB-key, our Identity-Bound Biometric platform, delivered an improved and streamlined experience for users leveraging BIO-key's server-based biometric identity and authentication. Try out the new PortalGuard and WEB-key here.
In March, we hit the sound waves with our new IAM Pulse podcast, with the first episode covering the tricky subject of deploying MFA.
IAM Pulse is our podcast dedicated to discussing IAM topics like Multi-factor Authentication (MFA), the cyberthreats in the education sector as told from first-hand experiences at universities and colleges, authentication nightmares that people have, and many more. The first episode really hit home with many of our listeners as we discussed the challenging subject of how to deploy MFA successfully. Listen to the first episode of the podcast here.
In April, we continued to expand our partnerships with community colleges, specifically with the Foundation of California Community Colleges.
This year, we continued to grow our footprint in providing security solutions for higher education and we were excited to announce the addition of Mendocino College as a new FCCC community college trusting PortalGuard to secure access for students, faculty, and staff, increasing the number of FCCC colleges using PortalGuard to over 55.
"We are pleased to expand our long-term relationship with the California Community College System. Higher Education institutions are seeking a partner to assist them with their strategic cloud initiatives and meet the demands for a highly scalable and redundant IAM solution," said Mark Cochran, President of BIO-key PortalGuard. Read the full press release here.
In May, we released our mobile app for MFA, BIO-key MobileAuth with PalmPositive, which aims to obsolete traditional authentication methods.
Traditional authentication methods remain inconvenient, risky, and expensive. By introducing BIO-key MobileAuth with PalmPositive, which uses a palm scan to authenticate a user, we introduced a different way to authenticate. Using Identity-Bound Biometrics on a mobile app created a more convenient and secure authentication method with the highest level of integrity that only authorized users are getting in. MobileAuth is perfect for everyday use cases like remote access, third-party access, Customer IAM (CIAM), and passwordless workflows. Read more about MobileAuth here!
In June, we released PortalGuard SSO Concierge to eliminate passwords for thick client applications.
SSO Concierge provides single sign-on capabilities that eliminate the need for passwords to thick client applications that don't support federated identity management. Many enterprises maintain complex environments, including thick client applications that have been outliers with cloud-only IAM strategies. Read more about SSO Concierge.
In July, we participated in the National Association of Counties (NACo) Annnual Conference, presenting on "Redefining Connectivity to Protect Your Employees, Contractors, and Citizens"
At the NACo Annual Conference, our VP of Product, Kimberly Johnson was a featured expert panelist on "Redefining Connectivity to Protect Your Employees, Contractors, and Citizens" during the CIO Forum to highlight the importance of MFA for counties. Throughout the conference, we learned that county officials face a constant threat of cyberattacks, and MFA was at the top of the list for county cybersecurity priorities. We were excited to attend and sponsor the conference at a critical time when counties require solutions to protect against breaches, eliminate passwords, lower costs, and improve productivity for their IT teams.
In August, we introduced new hardware to support Identity-Bound Biometrics, including our EcoID II USB Fingerprint Scanner.
EcoID II is our next generation of the EcoID USB fingerprint scanner. EcoID II incporates a new scanner technology with the latest generation of BIO-key's NIST-tested algorithms for improved scanning and a superior overall user experience. EcoID II's breakthrough size makes it ideal for space-constrained workspaces, and perfect for desktop, dock stations, and thin-client users in the workplace.
In September, we announced the start of a Master Agent Referral Partner Program with Intelisys to expand our partner ecosystem.
Earlier this year, we announced that we expanded our Channel Alliance Partner (CAP) program to broaden our global partner ecosystem to provide substantial new revenue opportunities for us and our partners. With Intelisys, it transformed the partner program allowing us to leverage our unique strengths to increase the opportunities with a variety of end customers. Read the full press release here.
In October for cybersecurity awareness month, we released our Identity Management Kit, highlighting #IAMCybersmart and the growing need to improve IAM strategies for all organizations.
For Cybersecurity Awareness Month and Identity Management Week, we championed this global initiative by helping organizations say #IAMCybersmart with confidence. We released our kit containing various resources on cybersecurity and IAM, quizzes to test your knowledge, and other educational content to share online and spread the importance of IAM. You can download the kit here!
In November, both Orange Bank & Trust and America's Auto Auction selected us as their IAM provider because of our Identity-Bound Biometric authentication.
Both America's Auto Auction and Orange Bank & Trust selected PortalGuard with WEB-key for Identity-Bound Biometric authentication to confirm the user's true identity and provide a way to authenticate for users across multiple locations and on shared workstations, avoiding the challenges of more cumbersome and time-intensive authentication methods.
"Our company is partnering with BIO-key to address our key corporate security initiatives," states Victor Demaria, MIS/IT Director, America's Auto Auction. "BIO-key provides a proven suite of IAM solutions and we use their biometric authentication solutions including MobileAuth™ with PalmPositive™ to positively prove the user's identity, not just the hardware device when accessing our critical systems and data. BIO-key offers us significant security advantages over traditional device-based authentication approaches offered by other vendors."
Read the Orange Bank & Trust and America's Auto Auction news here.
In December, our PortalGuard IDaaS Admin Panel was enhanced to provide an even better admin experience and time savings for IT teams.
One thing many IT teams do not have is extra time to deal with integrating and managing an IAM solution. With the enhancement of our PortalGuard IDaaS admin experience, we streamlined workflows and made it easy for customers to manage PortalGuard in one centralized location. Learn more about the Admin Panel here!
Final Thoughts
For more content, visit our Resource Center to explore our whitepapers, blog posts, press releases, podcast episodes, eBooks, and more. If you have any direct questions, just contact us and we'd love to point you in the right direction. Here's to 2022 bringing in stronger security and better IAM for teams like yours.