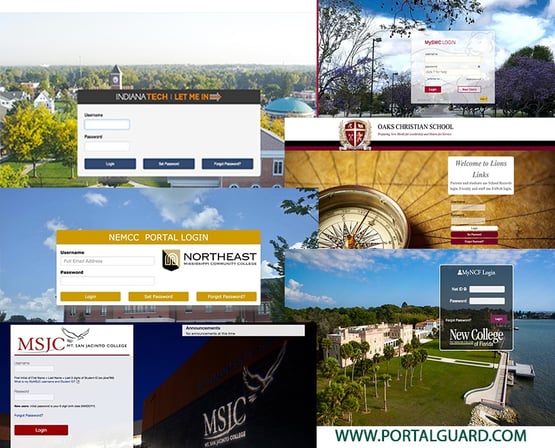 Why Do Schools want PortalGuard?
When working with clients in education, we've heard the challenges they face when attempting to increase security while enhancing the user experience for their students and faculty. What we've learned during our engagements with clients is that most educational institutions face the same problems even if they have vastly different IT environments. The nature of the education industry has spawned issues with password management, system access, and general overall omission of sufficient IT security measures.
With these pain points in mind, I've put together a list of common issues that educational institutions need to solve with a third-party vendor.

Replacing non-effective solutions

Incompatibility: Many clients have expressed that their current third-party solution for password resets and/or single sign-on has failed to meet the expectations that were set during the initial evaluation process. Signs of trouble have shown up during the implementation process where they discovered system incompatibilities that were not discovered during the testing phase. Many times, these troubles would be uncovered when attempting to integrate other lower priority apps and that went completely under the radar until it was too late. This scenario would typically result in a security compromise or creative workaround to get the desired result.

Poor Customization Options: Everybody wants flexibility when it comes to software. Having the ability to fine tune a solution to fit a school's exact needs goes a long way toward overall end-user satisfaction. Finding a solution that allows for heavy customization options for security configurations such as, login requirements or options for resetting a secure password, help provide that tailored experience for the end users.

There are some big-name vendors that only provide basic branding options for their solution. We've found that our education clients want to comprehensively brand our solution with the school logo, colors, and images of their campus. This not only pleasing to the eyes but adds a sense of credibility to the school and subconsciously informs students that they're supposed to be utilizing these services. Let's call it the warm and fuzzy factor, as it adds familiarity and a sense of security when logging in.

Limitations for Password Resets/Changes: When it comes to password resets, it's imperative to provide flexible options to end users. We've heard that some solutions are very limiting in terms of options for resetting or changing a password. In many cases, some solutions only have one option to choose from and if it happens to be poorly adopted, then too bad.

In fact, a common suspect is the antiquated challenge questions & answers approach. In many circumstances, end users are tested on how they formatted their answers months ago, and even if they know the correct answer, they can't recall if the capitalized the first letter or accidentally left some white space after their answer. Heartburns such as these can now be circumvented with usability features to fully normalize the answers which strip out all capitals, special characters, and whitespaces which results in more user-friendly experience.
Even with these usability features in place for knowledge based authentication (KBA), alternative approaches for password reset are still in high demand. Finding a solution that offers flexible options to prove an identity for a password reset is not a nice to have, but a hard and fast requirement.

In today's mobile world, smartphones are everywhere, and being able to leverage these household devices is paramount to finding an effective solution. We've seen many schools adopt SMS text messaging, free to use mobile authenticators, and private email addresses to prove a student or faculty member's identity for a password reset. By making these options available, and potentially coupling these with KBA, it provides end users flexibility when resetting or changing a password.

Poor support & documentation: On many occasions, clients have expressed frustrations with the level of support given after a purchase. I'm sure everyone is familiar with the "speediness" of getting a response from big vendors like Microsoft. All kidding aside, it can be extremely disheartening when your high priority project losses traction because of a third-party hasn't responded to your inquiry. I think we can all agree that slow response times, unclear escalation paths for technical issues, and altogether poor documentation for troubleshooting or deploying may be the straw that breaks the camel's back. That's why it's of the utmost importance to spend time researching the level of support a vendor give both pre and post sales.

Disjointed student & faculty login experience

Multiple Logins/No central point of access: In terms of password management, we recommend trying a self-service password reset solution directly with a central login point. Whether it's directly from the OS login screen or a single sign-on web portal, it's imperative that users understand where they need to go to reset their password.
Logging into multiple applications without single sign-on can compound confusion with passwords, especially if students are required to maintain separate IDs for each application. Students can become confused with which password they need assistance with, which amps up the confusion with a little dash of frustration not to only them, but the Help Desk employee on the other end of the phone.
By creating a central point of access, a school can enforce enrollment of available methods to perform a self-service action. Instead of counting on the student to "go here to enroll", they can catch this enrollment data as they're logging into their school email for the first time. This helps ensure that they'll have the tools to manage their password when they eventually forget it over a long holiday weekend.

If students are required to navigate to another web page to perform a self-service action, they're less likely to do so or forget where to go altogether. Simplifying the whole student online experience is the common theme we hear when speaking with our education customers. It's the whole path of least resistance mentality and IT departments do not need to give their students and faculty any more excuses to call the help desk for assistance.

What does it all mean?

All these critical elements add up to one thing: poor user adoption. At the end of the day, schools are spending real dollars to help overcome common IT struggles. Pouring precious IT budgeting into solutions that aren't getting it done, or not providing that central login experience, is proving too costly for schools. PortalGuard is here to help! With first-hand knowledge working in the education industry, PortalGuard can equip your campus with an affordable cybersecurity authentication solution that will increase end-user satisfaction.